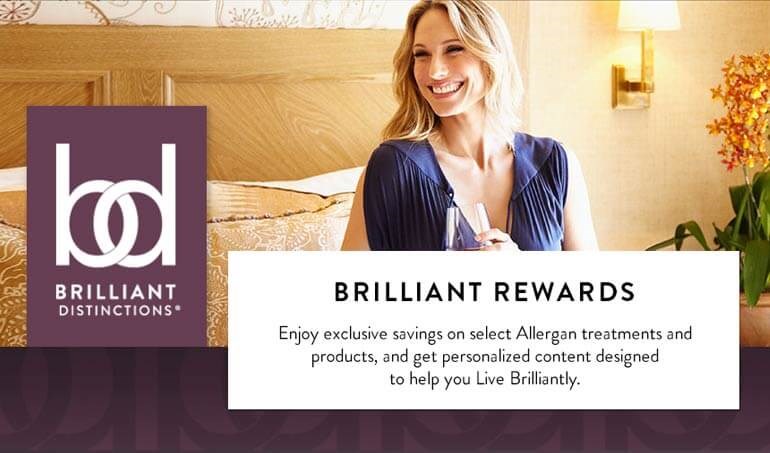 The Brilliant Distinctions Program
The Brilliant Distinctions points program allows you to accrue points for BOTOX, Juvéderm XC, Voluma XC, Latisse, and SkinMedica purchases. You can then use your Brilliant Distinctions points to save on future purchases of these same treatments and products. Additionally, you can earn points with purchases at the Brilliant Distinctions Mall, a collection of online retailers offering a variety of beauty items, clothing, and home goods.
Brilliant Distinctions Features:
Points for every BOTOX Cosmetic, Juvéderm XC, Voluma XC, or Latisse purchase at Plastic Surgery Associates
Points for SkinMedica purchases in-store or online
Points for purchases at the Brilliant Distinctions Mall
Keep up with your rewards online or through the mobile app
Register for Brilliant Distinctions:
Start saving by registering at Brilliant Distinctions and following the online instructions. Once registered, it's time to begin earning points. Before making your next purchase, let the staff at Plastic Surgery Associates and Allegro MedSpa know you are a member of Brilliant Distinctions. After your BOTOX, Juvéderm XC, Latisse, or SkinMedica treatment, we will bank your points for you.
Products and Points:
1 BOTOX Treatment = 200 points
1 Juvéderm XC or Voluma XC Syringe = 200 points
Latisse 3ml = 100 points
Latisse 5ml = 150 points
SkinMedica Peel = 100 points
Natrelle Breast Implants = 500 points
Using Your Coupon:
Log on to Brilliant Distinctions, then click "Redeem Points" to see how many points you have available. Follow the online instructions to "Create Your Coupon" and print. Bring your coupon to Plastic Surgery Associates so we can deduct your discount from your next purchase of BOTOX, Juvéderm XC, Latisse, or a SkinMedica Peel. Plastic Surgery Associates cannot redeem your points without the pre-printed coupon.